BAREFOOT TRAINING SPECIALIST® LEVEL 1 | 14 HOURS
AS THE FOUNDATION TO ALL EBFA EDUCATION THE BTS LEVEL 1 CERTIFICATION SETS THE FOUNDATION FOR ADVANCED CONCEPTS IN BAREFOOT ACTIVATION, REFLEXIVE STABILIZATION AND BRAIN. BREATH. BAREFOOT. CONNECTIONS. WITH THE FOOT AS THE ONLY CONTACT POINT BETWEEN THE BODY AND THE GROUND, THIS COMPLEX STRUCTURE PLAYS A CRITICAL ROLE IN THE WAY IN WHICH OUR BODY STABILIZES AND REACTS DURING DYNAMIC MOVEMENT.
In this Level 1 Certification get ready to explore how to prep the body for movement by tapping into the nervous system with barefoot science, foot to core sequencing and reflexive stability via fascial lines.
Learn concepts including:
Foot to core sequencing via short foot
The science of the somatosensory system
Introduction to foot and ankle anatomy and biomechanics
Open chain and closed chain foot assessments
Foot function and fascial lines
Barefoot before shod programming
plus more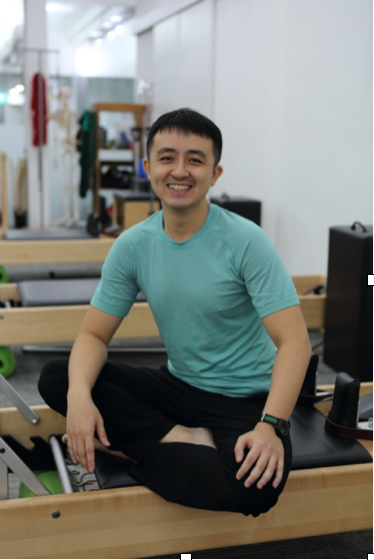 About the Trainer
Jerry Teo
Managing Director & Co-Founder, BodyTree Group
Managing Director, Pilates BodyTree®
Educator, BodyTree Academy
Regional Director of Education in Asia (EBFA Global) 
Jerry is an energetic and dedicated teacher. His mission in life is 'To teach and inspire people to take changes that would improve their quality of life.' Jerry's greatest fulfilment in teaching came from experiencing how physical changes in his students' bodies transformed other aspects of their lives.
Jerry studied with many world-renowned teachers. Pilates Master Teacher and Elder, Ron Fletcher's (1921-2011) emphasis on excellence influenced him to constantly explore ways to develop his teaching skills. Jerry's greatest strength is his ability to adapt and adjust teaching methods to different learning personalities or complex physical issues, to make learning simple yet effective. Jerry is actively involved in mentoring Pilates Teachers so that they can in turn bring more impactful change to more people.
In his last 19 years of teaching in the fitness industry, Jerry has frequently helped people with knee, back, shoulder and neck problems. He especially loved and taught many runners, golfers, tennis players, skiers, yogis and dancers to improve their sports performance using Pilates. Jerry's most recent stint is teaching Pilates to the elite Cirque Du Soleil's Kooza to prepare them for their high level performance. Coupled with his experience in teaching people with serious lower back pain in his 'Get Back On Track' program, Jerry strongly believes that Pilates is a critical foundation to any movement program.
– Fitness Best Asia Pilates Instructor of the year (2018)
– Creator of 'Get Back On Track', a lower back pain workshop
– Creator of 'Accelerated Flexibility Training' workshop
– Presenter of 'Barefoot Training Specialist' certification courses in Asia
– Presenter of RunInjuryFree! certification courses in Asia
– Presenter of Pilates Teacher Training certification courses in Asia
– Fletcher Pilates® Adjunct Faculty (2009-2014)
– Pilates lecturer, Diploma of Dance, NAFA (2004-2006)
– Physical Training Instructor, Singapore Armed Forces (SAF) (2000-2002)
– Nationally Certified Pilates Teacher (NCPT)
– Fletcher Pilates® Professional Teacher
– Barefoot Training Specialist® Level 1,2,3
– BARE® Workout Instructor
– PowerPlate® Certified Master Trainer
– PowerPlate® Small Group Master Trainer
– Rehab Trainer
– Stretch Therapy™ Teacher
– Certified Functional Range Conditioning Mobility Specialist
– Parkinson's Regeneration Training® Instructor
– Pelvic Floor & Core Foundations (Burrell Education)
– Women's Wellness and Whole Body Vibration (Burrell Education)
– Quanta Therapist
– Sports Massage Therapist
– Clinical Orthopedic Manual Therapist
– Proprioceptive Deep Tendon Reflex Practitioner
Check your inbox to confirm your subscription